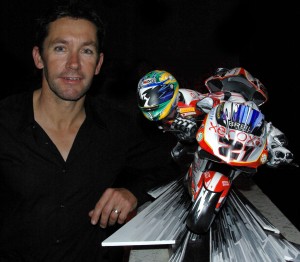 STOLEN!
One of the five signed Troy Bayliss Ducati's has been stolen from a storage facility in Houston.It was stolen a while ago, so the thief might have by now sold it on to an unsuspecting punter.If you have either bought this edition or have seen it displayed somewhere, please get in touch. It would be nice to get it back to the guy who originally bought it!
Below are all the current SPEED/STILL editions available.
All are complete. All are signed and dated. All are ready to ship. All you are required to do is click on an image, then enjoy the portfolio of photographs of each sculpture or back-lit image. In most cases a small story is also included giving you some idea as to how the edition came about. You'll also find size and pricing details. Then all you have to do is work out which wall or table you intend to display your forthcoming purchase, make contact and we can take things from there. Enjoy!